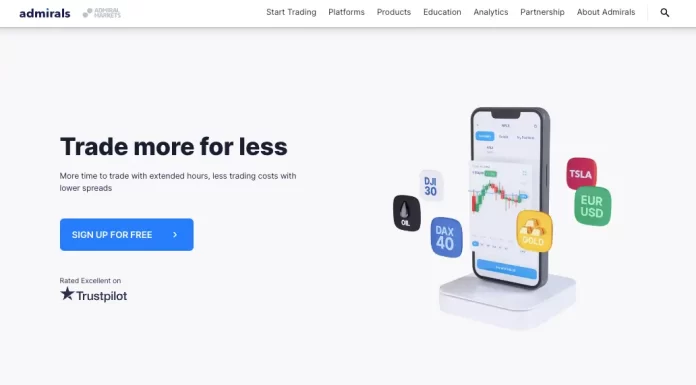 Read our Admiral Markets review to see if we recommend this broker for trading. Just to clear doubts, this is an admiralmarkets.com review.
Introduction:
Admiral Markets is an established online trading platform that offers a wide range of financial instruments, including Forex, CFDs, stocks, and cryptocurrencies. With a global presence and a solid reputation, it has garnered attention from both novice and experienced traders. This review aims to provide an in-depth overview of Admiral Markets, highlighting its features, strengths, and areas for improvement.
User-Friendly Interface:
One of the standout features of Admiral Markets is its user-friendly interface. Navigating through the platform is intuitive and straightforward, making it suitable for traders of all skill levels. The layout is well-organized, allowing users to access essential information and execute trades with ease. The platform offers customizable charting tools, real-time market data, and a responsive trade execution system. Whether you are a beginner or a seasoned trader, Admiral Markets provides a hassle-free trading experience.
Wide Range of Tradable Instruments:
Admiral Markets excels in providing a diverse selection of financial instruments. Traders have access to a broad range of currency pairs, stocks from major exchanges, indices, commodities, and even popular cryptocurrencies. This variety enables users to diversify their portfolios and take advantage of various market opportunities. The inclusion of MetaTrader platforms, including MetaTrader 4 and MetaTrader 5, ensures a seamless trading experience with advanced charting tools, automated trading capabilities, and access to a large community of traders.
Competitive Spreads and Fees:
Admiral Markets offers competitive spreads and fees, which is an essential factor for traders looking to optimize their profitability. The platform provides tight spreads across different asset classes, resulting in lower transaction costs. Additionally, Admiral Markets offers various account types to cater to different trading needs, including a commission-free account and accounts with raw spreads for those seeking reduced costs. It also provides flexible leverage options, allowing traders to adjust their risk exposure according to their trading strategies.
Regulation and Security:
Admiral Markets prioritizes the safety and security of its clients' funds. It has a strong regulatory framework in place, which enhances its credibility and provides reassurance to traders. The platform is regulated by reputable financial authorities, such as the Financial Conduct Authority (FCA) in the United Kingdom and the Australian Securities and Investments Commission (ASIC) in Australia. These regulatory bodies ensure that Admiral Markets adheres to strict standards, including segregation of client funds and implementation of robust security measures, such as encryption protocols and two-factor authentication.
Educational Resources and Customer Support:
Admiral Markets understands the importance of education for traders and offers an extensive range of educational resources. The platform provides educational articles, webinars, video tutorials, and market analysis to empower traders with the knowledge and skills needed to make informed trading decisions. These resources cater to both beginners and advanced traders, covering topics such as technical analysis, risk management, and trading psychology. Moreover, customer support is readily available through multiple channels, including live chat, email, and phone, ensuring prompt assistance whenever needed.
Areas for Improvement:
While Admiral Markets is an excellent trading platform, there are a few areas that could be improved. The inclusion of more advanced research tools and market analysis features would be beneficial for experienced traders who rely heavily on technical and fundamental analysis. Enhanced charting capabilities and customizable indicators would also add value to the platform. Additionally, expanding customer support hours to cover weekends and 24/7 would enhance accessibility for traders in different time zones.
Conclusion:
Admiral Markets is a reliable and user-friendly trading platform, offering a wide range of financial instruments and competitive trading conditions. Its strong regulatory framework, educational resources, and excellent customer support contribute to its overall appeal. The platform's intuitive interface, diverse asset selection, and competitive pricing make it suitable for traders of all levels of experience. Despite a few areas for improvement, Admiral Markets is a solid choice for traders looking for a trustworthy platform to engage in various financial markets.