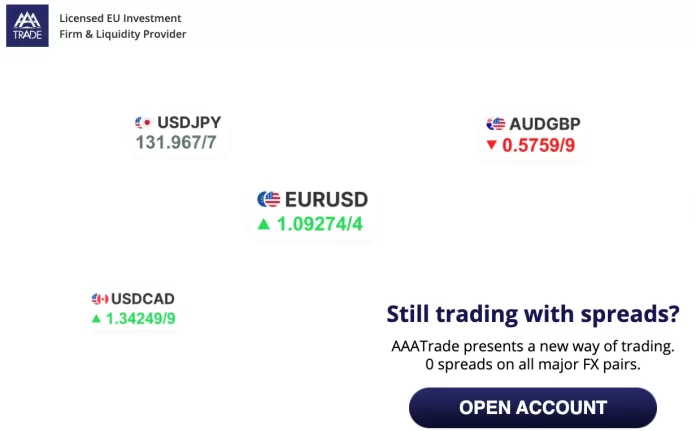 Read our AAATrade review to see if we recommend this broker for trading. Just to clear doubts, this is an aaatrade.com review.
Introduction:
In the fast-paced world of online trading, finding a reliable and feature-rich platform is essential for both seasoned traders and beginners. AAATrade.com is a renowned online trading platform that has gained recognition for its wide range of financial instruments, advanced trading tools, and exceptional customer service. In this article, we will provide an in-depth review of AAATrade, exploring its key features, benefits, trading options, account types, security measures, customer support, educational resources, and overall user experience.
1. Overview of AAATrade:
AAATrade is a Cyprus-based online trading platform established in 2013. It is regulated by the Cyprus Securities and Exchange Commission (CySEC), ensuring compliance with stringent financial regulations and investor protection measures. The platform caters to individual traders, institutional clients, and corporate entities, offering a diverse range of investment opportunities across multiple financial markets.
2. Key Features and Trading Options:
2.1 Trading Instruments: AAATrade provides access to a broad spectrum of trading instruments, allowing traders to diversify their portfolios and take advantage of market opportunities. Some of the available instruments include:
• Stocks: Trade stocks from major global exchanges, enabling investors to participate in the equity markets and potentially benefit from capital appreciation and dividends.
• CFDs: Benefit from Contracts for Difference (CFDs) on indices, commodities, and cryptocurrencies. CFDs allow traders to speculate on price movements without owning the underlying assets, providing flexibility and potential for profit in rising or falling markets.
• Forex: Trade major, minor, and exotic currency pairs with competitive spreads and leverage. The forex market is the largest and most liquid market globally, providing opportunities for traders to profit from currency fluctuations.
• ETFs: Access a wide range of Exchange-Traded Funds (ETFs) covering various sectors, industries, and regions. ETFs offer diversification and the ability to invest in a basket of assets, providing exposure to broader market trends.
2.2 Trading Platforms: AAATrade.com offers a choice of sophisticated trading platforms to cater to different trading styles and preferences:
• MetaTrader 5 (MT5): Utilize the popular and powerful MT5 platform, known for its comprehensive charting capabilities, extensive technical analysis tools, and automated trading options. MT5 is favored by many traders for its user-friendly interface and customizable features.
• WebTrader: Access the platform directly through a web browser, allowing traders to execute trades seamlessly without the need for software downloads or installations. WebTrader provides a convenient and accessible trading experience.
• Mobile Trading: Take advantage of the AAATrade mobile app, available for iOS and Android devices, to trade on the go and stay updated with market trends and account activities. Mobile trading offers flexibility and convenience for active traders.
3. Advanced Trading Tools and Analysis:
AAATrade provides a range of advanced trading tools and features to assist traders in making informed decisions:
• Technical Analysis: Benefit from advanced charting tools, indicators, and drawing tools within the trading platforms to analyze price patterns and trends. Technical analysis helps traders identify potential entry and exit points based on historical price data.
• Fundamental Analysis: Access real-time market news, economic calendars, and financial reports to stay informed about significant market events and make informed trading decisions. Fundamental analysis helps traders understand the underlying factors that drive market movements.
• Risk Management: Utilize risk management tools, such as stop-loss orders and take-profit orders, to manage and limit potential losses or secure profits. Risk management is crucial in trading to protect capital and minimize the impact of adverse market conditions.
4. Account Types and Security Measures:
AAATrade.com offers various account types to suit different trading needs:
• Individual Accounts: Designed for retail traders, providing access to a wide range of trading instruments and account features. Individual accounts offer flexibility and accessibility for traders of all levels.
• Corporate Accounts: Tailored for corporate entities, enabling businesses to trade and invest with dedicated account managers and enhanced support. Corporate accounts cater to the unique requirements of corporate clients and provide additional services.
• Institutional Accounts: Designed for professional traders and institutions, providing access to advanced trading tools, liquidity solutions, and personalized support. Institutional accounts cater to high-volume traders and institutions with specific needs.
In terms of security, AAATrade prioritizes the protection of client funds and information. It employs industry-standard encryption protocols, segregated client accounts, and multi-factor authentication to ensure a secure trading environment. Additionally, as a regulated entity, AAATrade adheres to strict regulatory guidelines, providing an added layer of protection for traders.
5. Customer Support and Education:
AAATrade.com places significant emphasis on customer support and education, aiming to assist traders at every step of their trading journey:
• Customer Support: The platform offers multi-lingual customer support through various channels, including live chat, email, and phone. Traders can reach out to the customer support team for assistance, inquiries, or issue resolution. The responsive and knowledgeable support team ensures a positive user experience.
• Educational Resources: AAATrade.com provides a range of educational materials, including trading tutorials, webinars, video lessons, and market analysis. These resources aim to empower traders with the knowledge necessary for successful trading. The educational resources cover various topics, from basic trading concepts to advanced strategies, catering to traders of all skill levels.
Conclusion:
AAATrade.com is a trusted and well-regulated online trading platform that offers a wide range of financial instruments, advanced trading tools, and exceptional customer support. With its user-friendly platforms, diverse trading options, comprehensive educational resources, and robust security measures, AAATrade.com stands out as a suitable choice for both novice and experienced traders looking to navigate the dynamic world of online trading with confidence. Whether it's stocks, CFDs, forex, or ETFs, AAATrade.com provides the necessary tools and features to help traders make informed decisions and pursue their financial goals. We hope this AAATrade review was helpful to you. Please dont hesitate to leave your own AAAtrade review in the comments.